Back to search page
Oostenburgervoorstraat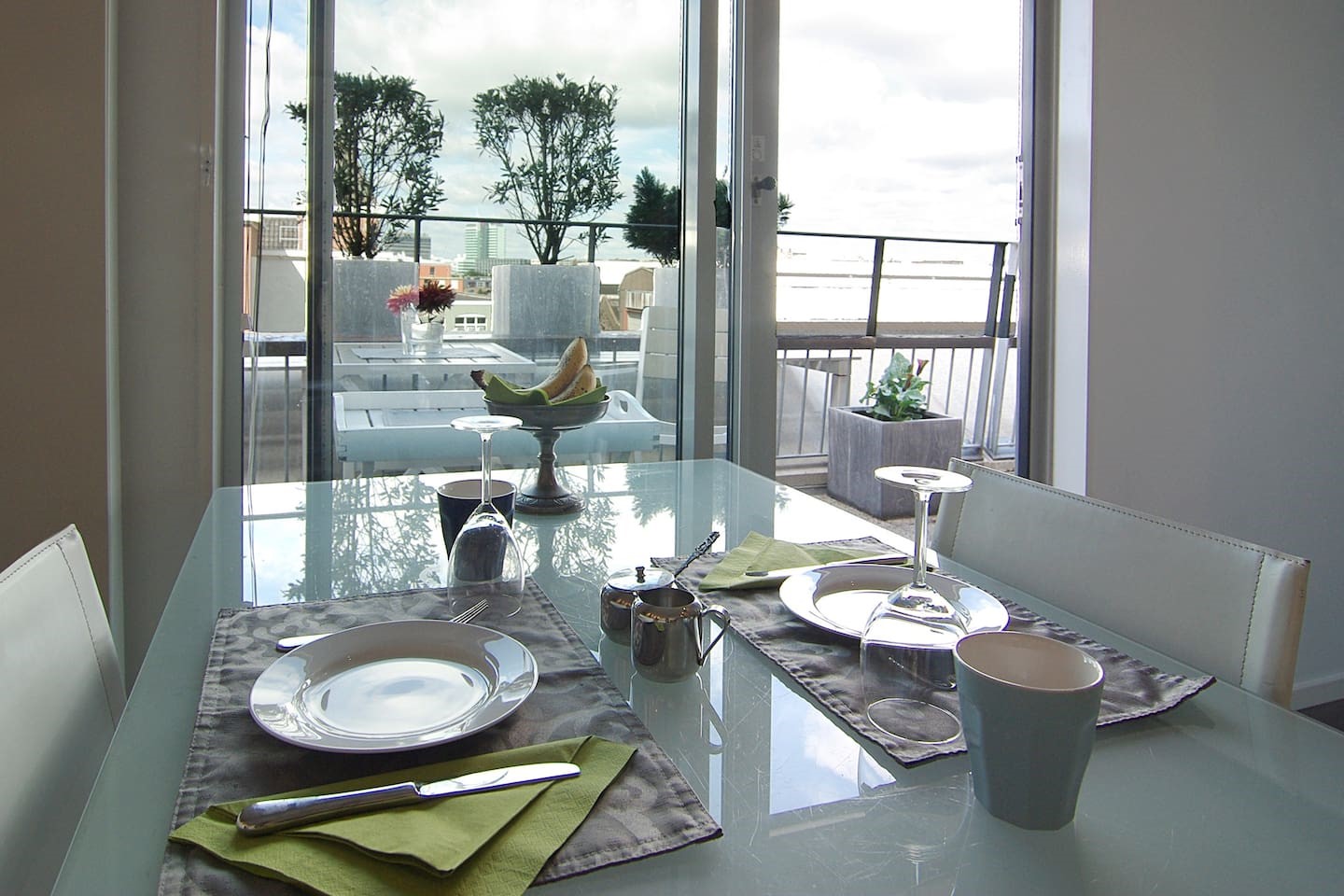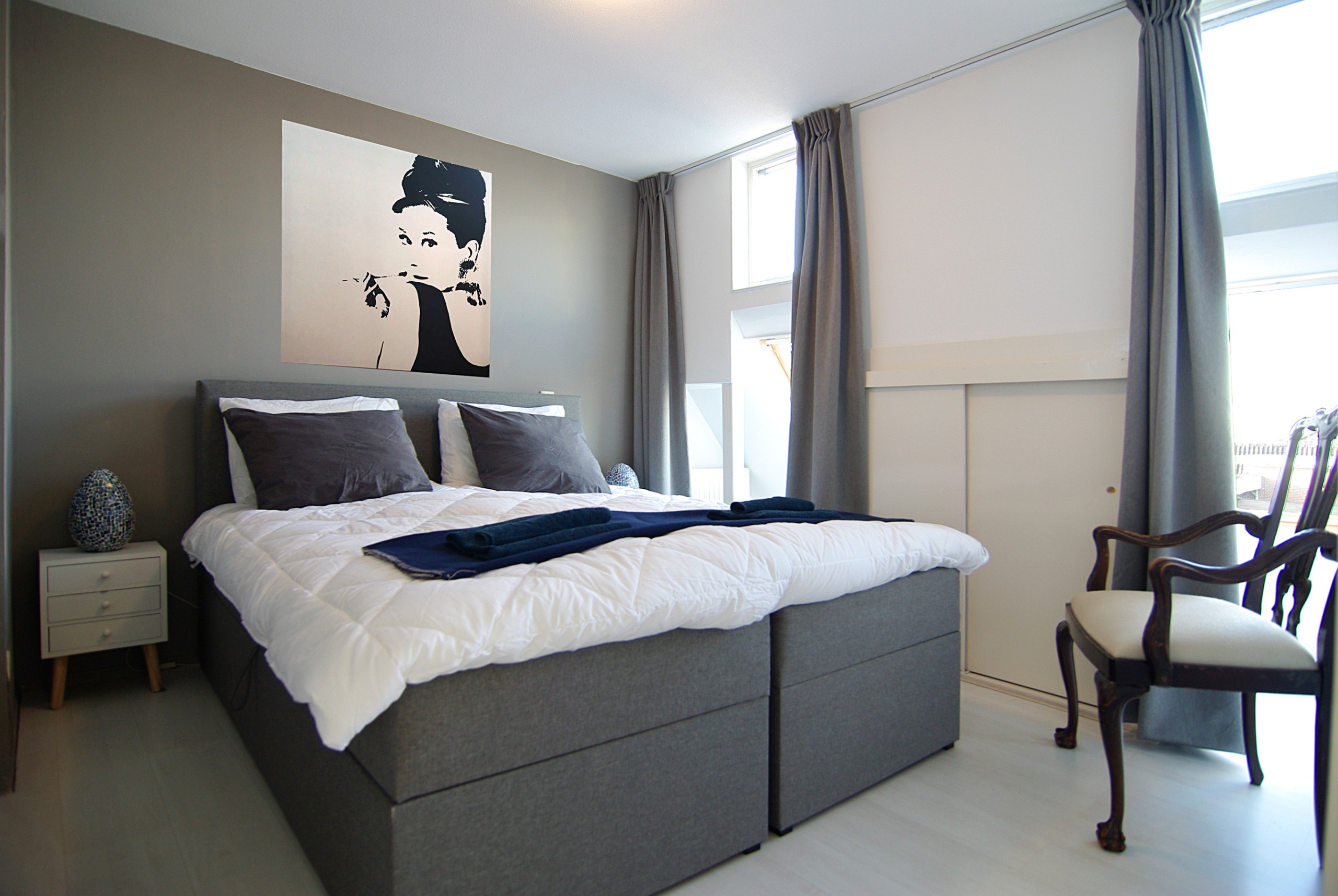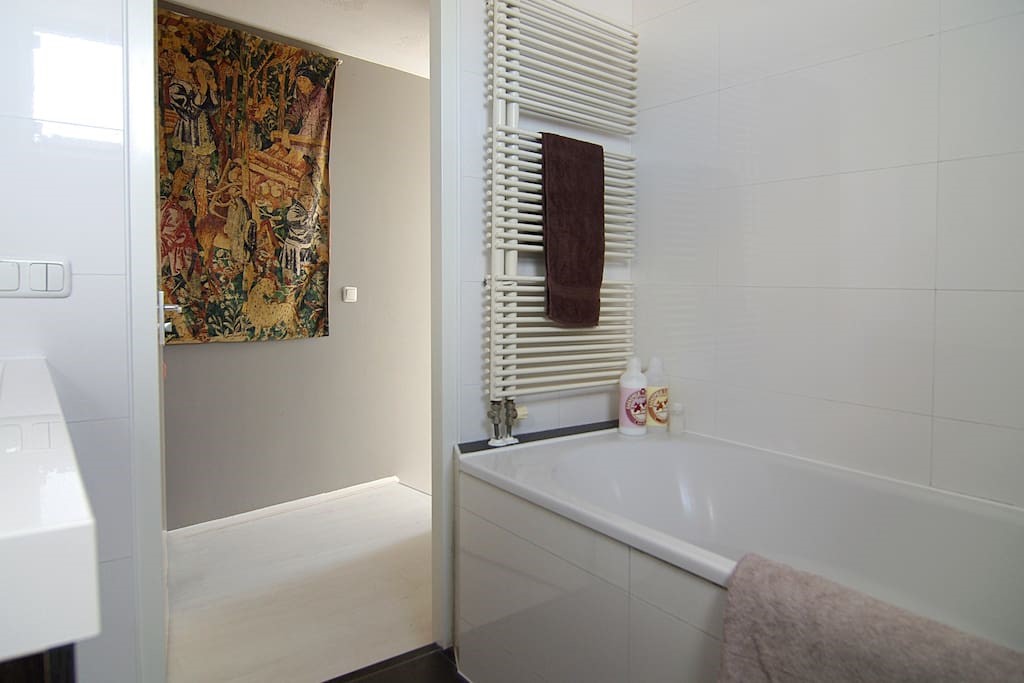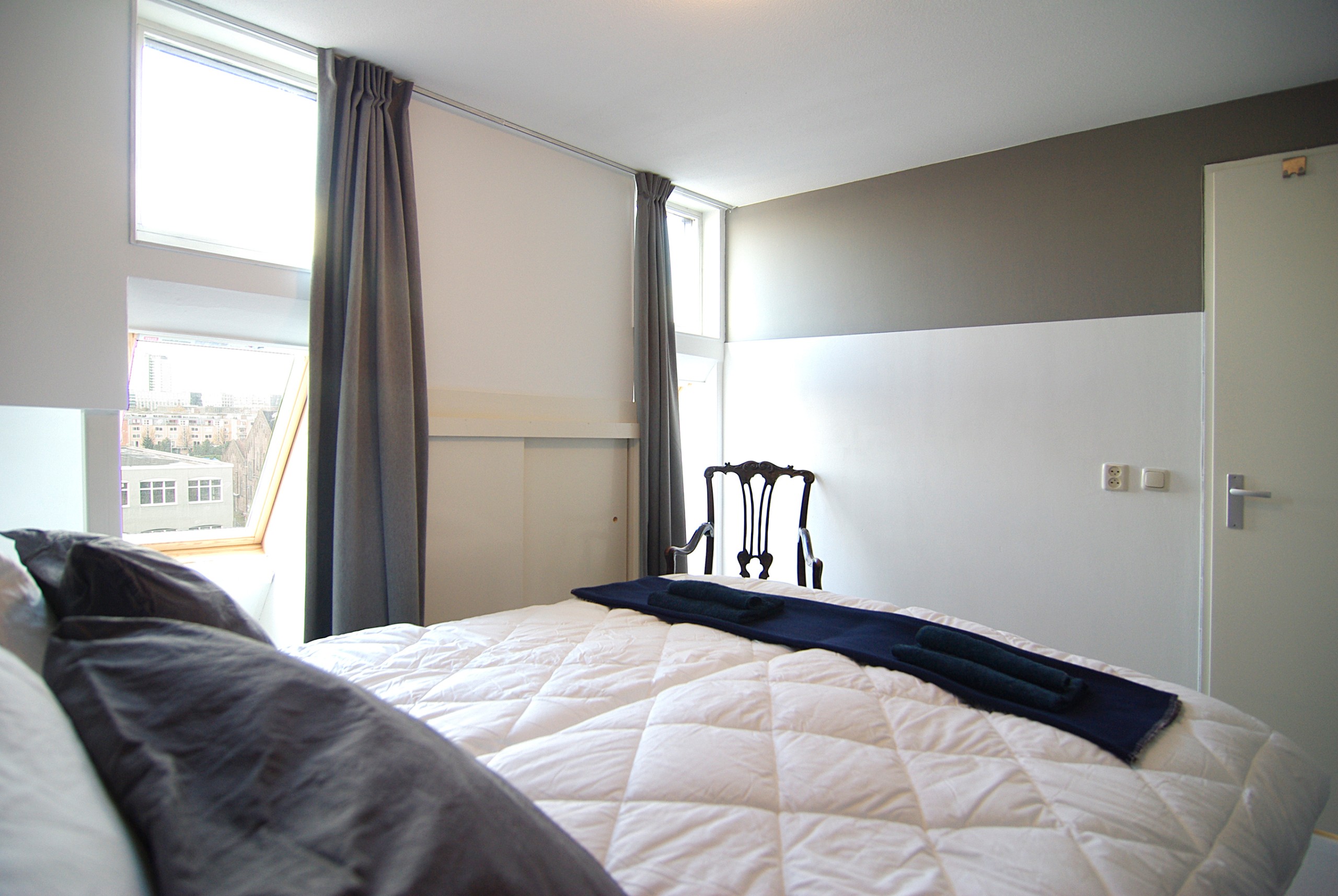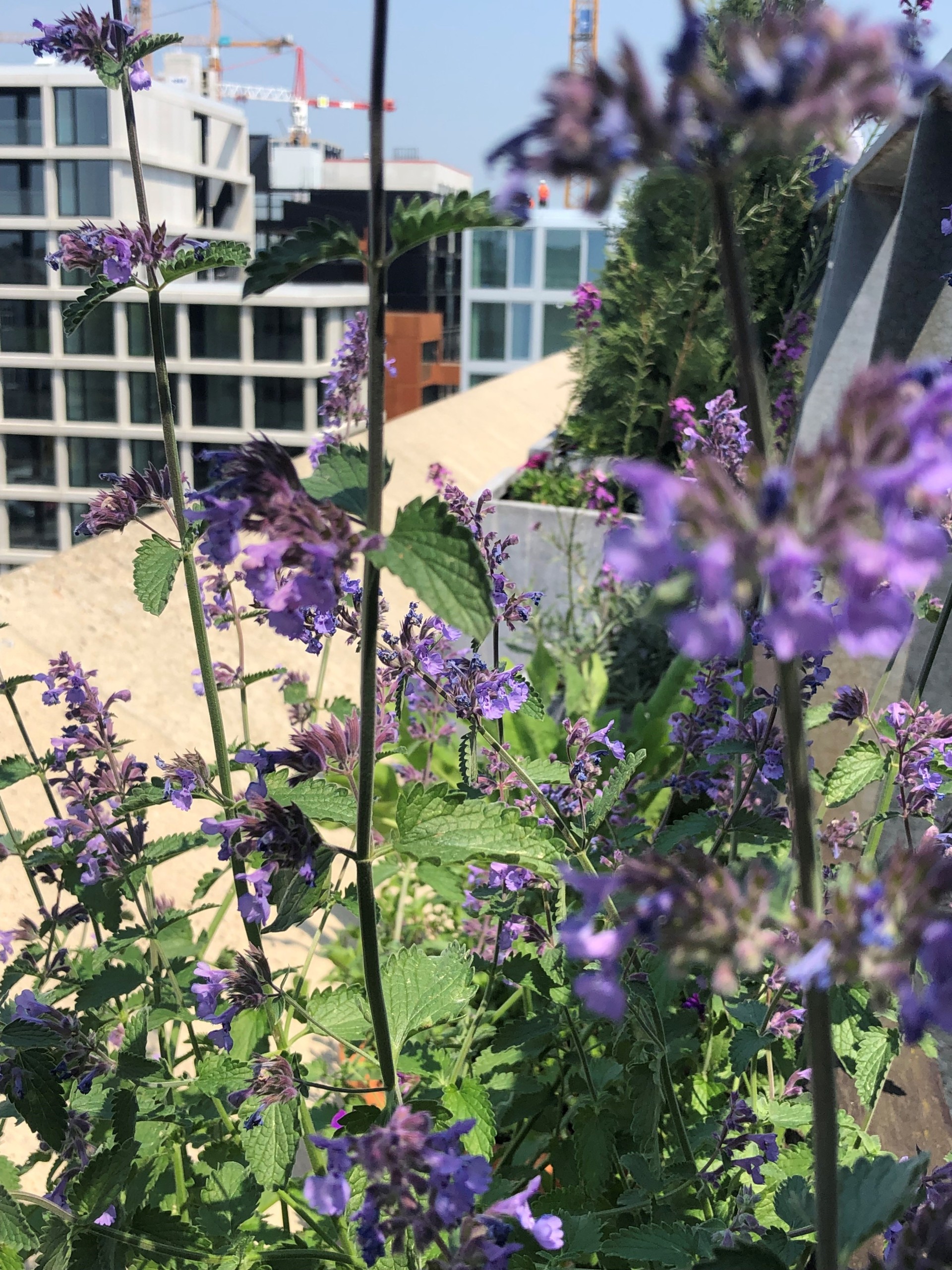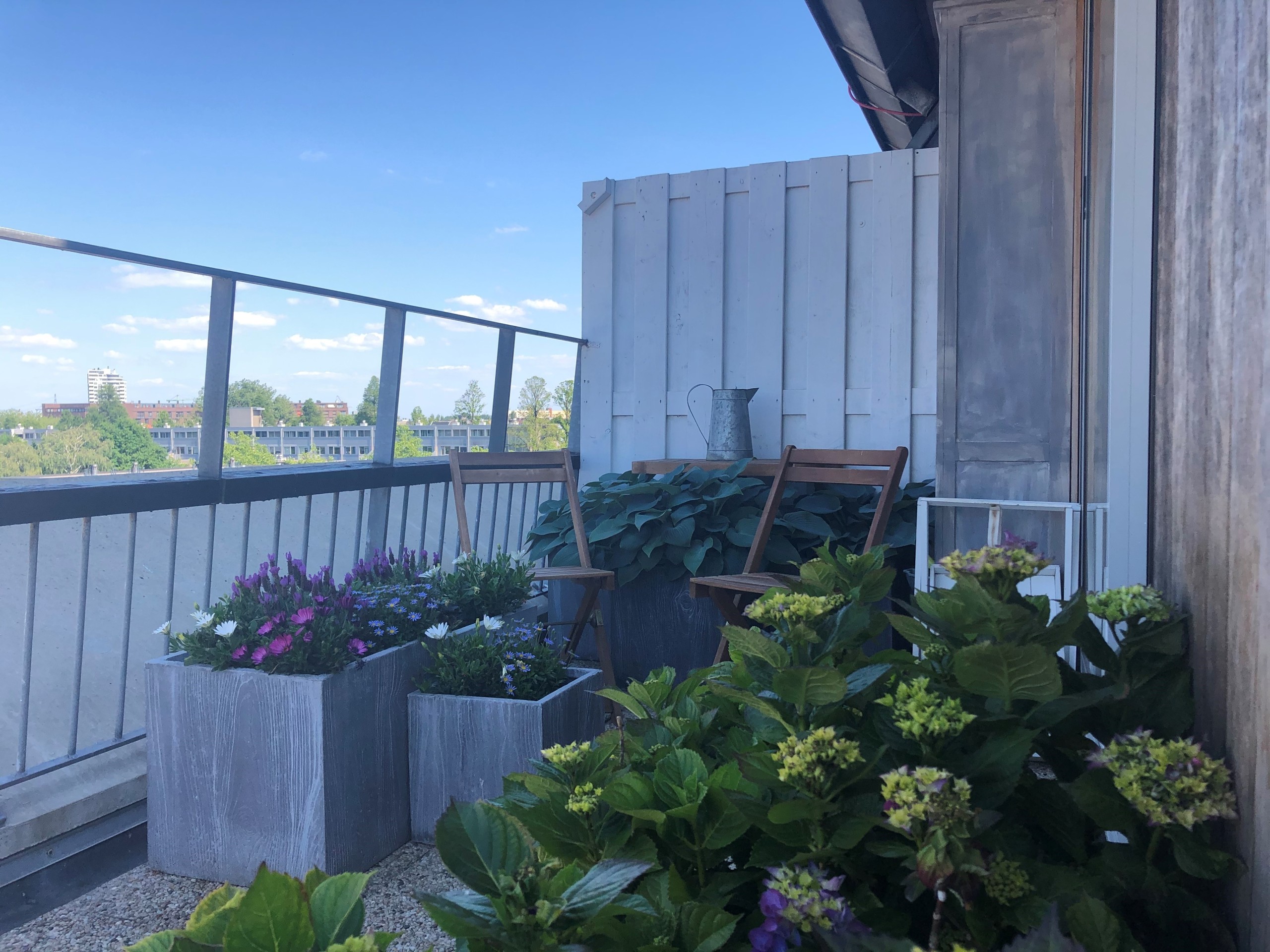 ‹
›
High end 2-bedrooms fully furnished 2-floors LOFT at city centre hippest spot, with wrap around 35m2 all day terrace on top of a 300 years old building, with optional private parking.
By viewer guests enter this 1 meter thick brick layed historical building, where you take in the atrium the elevator to the upper deck (4th floor). The former attic is opened up by a glass atrium in 1998.
Entering this corner penthouse you will feel home right away due to its brightness and modern styling. The double high hallway gives downstairs access to the spacious well equiped kitchen from where you serve dinner e.g. through the sliding door at your 15 metre long sunset and tea terrace. In the middle is downstairs a toilet and utility room with washing machine, freezer, heating system and e.g. supply rack.
The bright and modern furnished living leads you on one side to the breakfast terrace. From the other side you step on to the second sliding door to enjoy 'the blue sky of Amsterdam' with an elegant light strip under the eve. Upstairs you find a decent bathroom with bath, shower, second toilet and cupboard space … take a peep at one of the windows upstairs to check out the view over Amsterdam… Upstairs you also find two well sized bedrooms with enough wardrobe space and.. very Dutch.. even efficient space for e.g. all your shoes/sneakers under your bed. The second bedroom can evt. be converted in an office/children's room or just for you guests. Price is excluded a safe automated parking place (250E) and included service costs (220E/month).
The spot is marvellous on one side with a private garden.. (yes to book e.g. your housewarming drink).., a public parc and even place for your boat to float the canals. Supermarkets, daily market, city centre beach, brewery, a divers range of restaurants and all other vivid city venues are on your doorstep. Go Dutch and bike in 5 minutes to e.g. Central Station. The Amsterdam Central tram line 7 is only 2 minutes walk. Just like the busstop22 which brings you to Sloterdijk/Central/Muiderpoort train station every 5 minutes. Escape the city by car in 5 minutes and feel the breeze at the beaches or many historical cities around, by using your gated and automated parking place. At this very moment 2000 houses are newly built, which will boost this area with even with more venues, enjoying your finger food in the shade of your (olive) plants and nipping  a good glas of …as you like 🙂
The following two tabs change content below.
Myrthe Burns
Myrthe is het eerste aanspreekpunt voor huiseigenaren in Amsterdam die hun woning aan expats willen verhuren. Daarnaast schrijft ze blogberichten over alles wat met verhuren aan expats te maken heeft. Heeft u een vraag? Neem dan contact op met Myrthe. Ze helpt u graag verder.
Listing Details
Available from: 15 October, 2022
City area: Amsterdam
Bedrooms: 2
Size: 100 m²
Monthly rent: € 3.100,- (excl. utilities)
Interior: Furnished
Short description:

High end 2-bedrooms fully furnished 2-floors LOFT at city centre hippest spot, with wrap around 35m2 all day terrace on top of a 300 years o…